I've been working on a lot of little projects lately. Sewing, sanding, painting, cleaning, restoring… anything to keep my hands and head busy, really. It's in my nature to be crafty anyway, but add grief to the mix? And yeah, keep me busy, please.
So, here is a really random mostly-cell-phone-pictures post of my befores and my afters. On many of the projects, it's WAYYYYY overdue.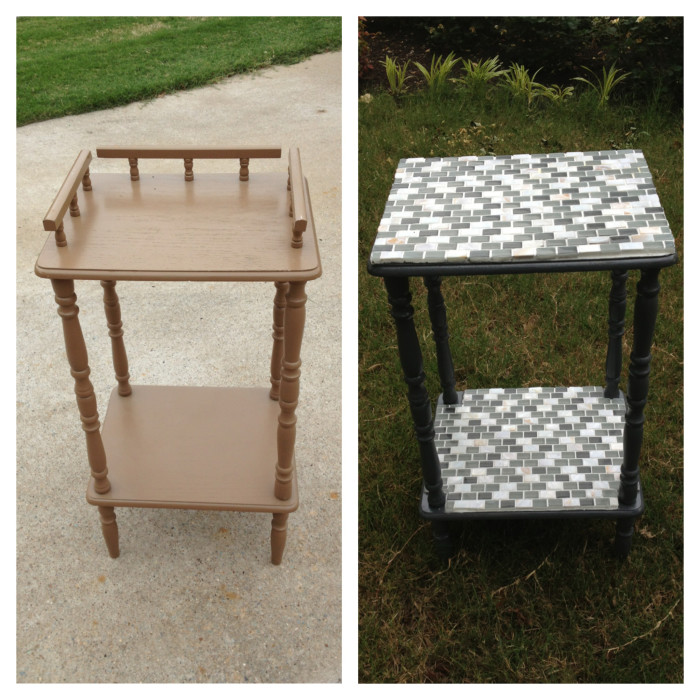 This is a little plant stand my friend gave me for free. I took it apart, spray painted it grey, and tiled the top with some cool tiny tile I got from Lowes. I love this little thing. I keep all my garden stuff on it on my back patio.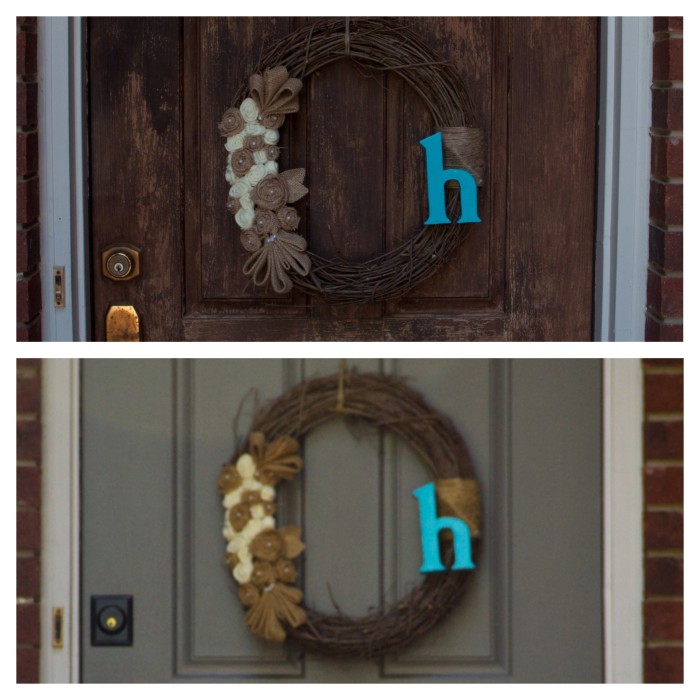 Jack painted our front door and replaced the hardware on it. It makes all the difference in the world. I can't even tell you how much prettier it is in real life. It was BAD before.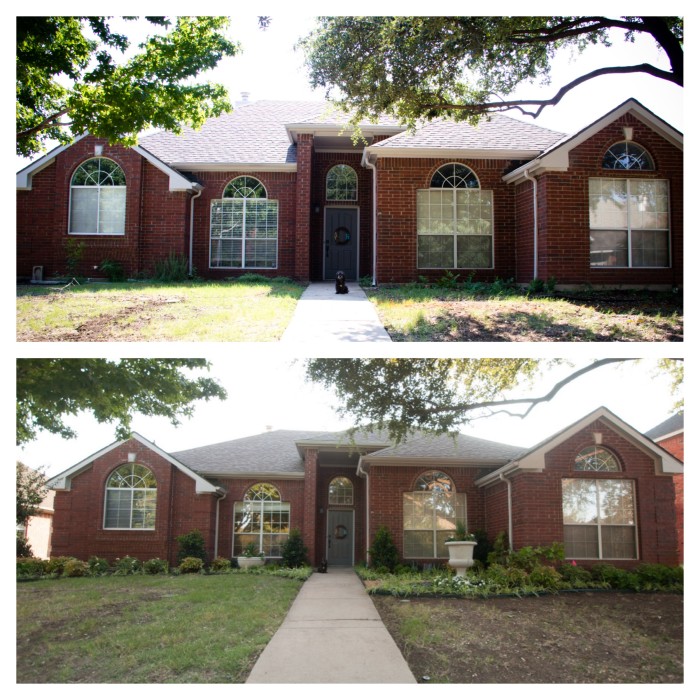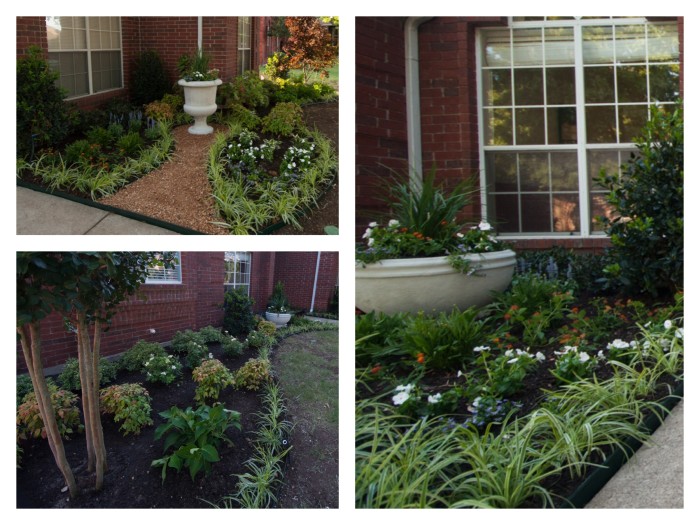 This is the landscaping in front of our house – it's not so much "DIY" as it is "Save for a really really really long time until you can pay somebody else to DI." We had it done last spring and I am crazy about it.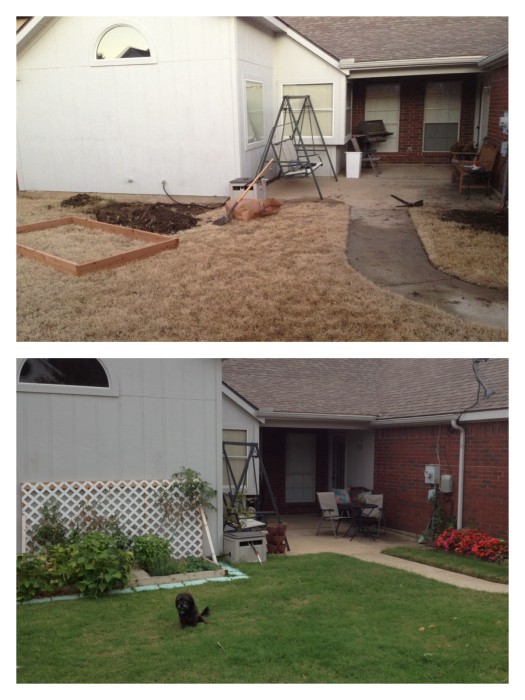 The backyard, however, is very much "DIY." And by "Y" I mean "I DID IT ALL MYSELF." I am very proud of it actually. Especially this: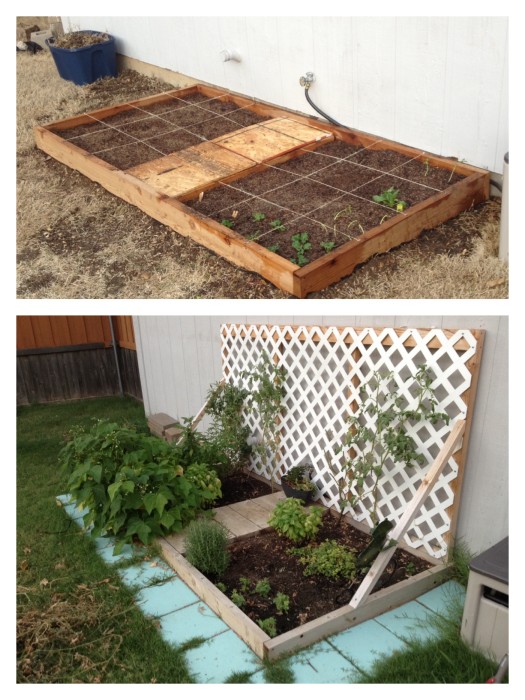 I know I've written about my little vegetable garden before, but I have really really loved having it in my backyard this year. I think it may have paid for itself in basil alone. If you're interested in gardening in a limited space, read this book, stat.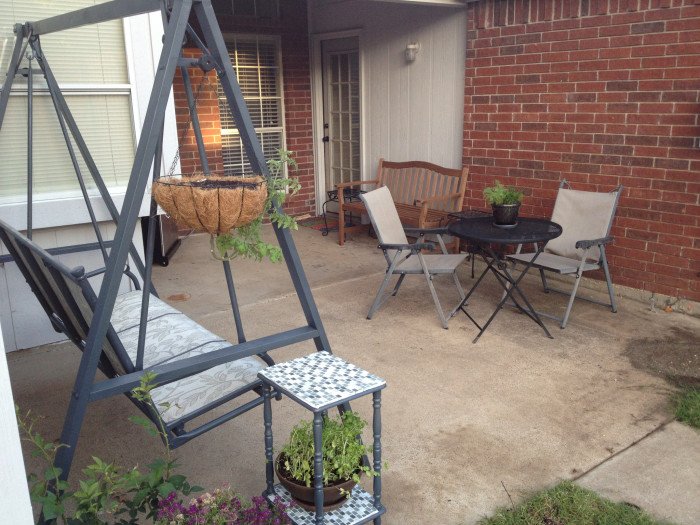 I'm also crazy about my back porch. I spend a lot of time out there now that I have redone a bunch of stuff, including: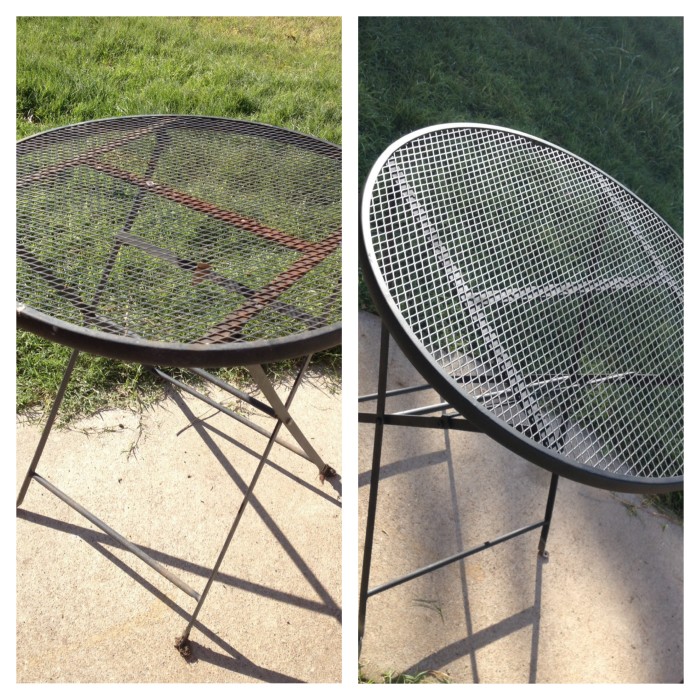 My patio table, which my dad bought me in college, and had gotten a little rusty – this is basically just a coat or two of spray paint. Easy and looks brand new! And these outdoor pillow cases: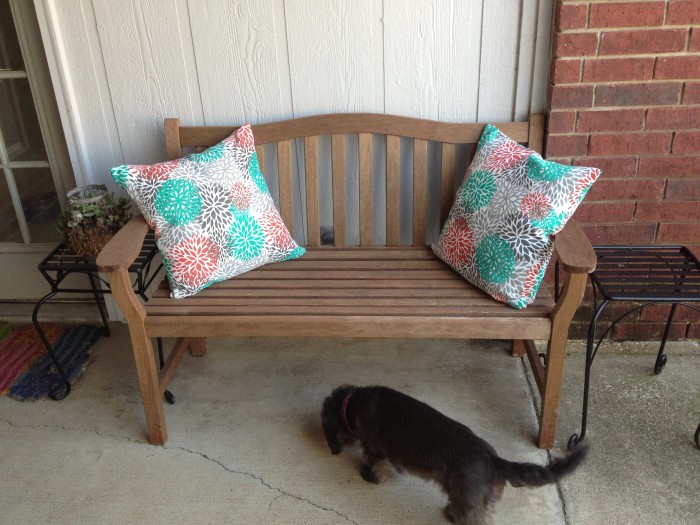 Which I sewed myself and they even have zippers! I fell in love with these outdoor pillows on Overstock but could not justify the $80 for them. So I found the fabric online and bought some cheap pillow forms (actually just white pillows but same thing) at Burlington Coat Factory and went for it! I have always been really intimidated by zippers but honestly they are not bad at all! I followed this tutorial to add the zipper.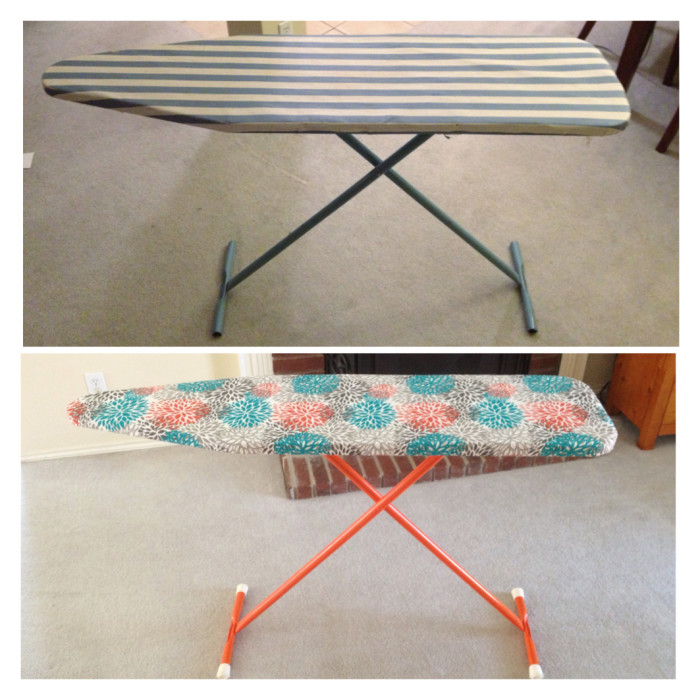 I used the rest of the fabric to restore a really, really old ironing board that used to be Jack's when he was growing up. I had been using it a lot for my sewing and it made me sad before. So I sanded, primed, and spray painted the metal, added rubber feets (you can get these at Lowes), and made a new top for it using this tutorial. I am absolutely enamored with it now.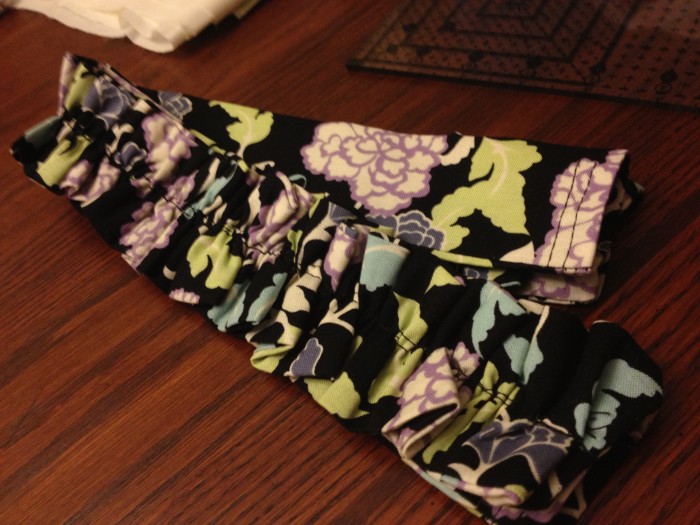 I used the new ironing board to help me finally finish this camera strap cover for my buddy Ellyn. I had promised her one, oh, about two years ago when I made Sara's. Oops. Great tutorial for that here.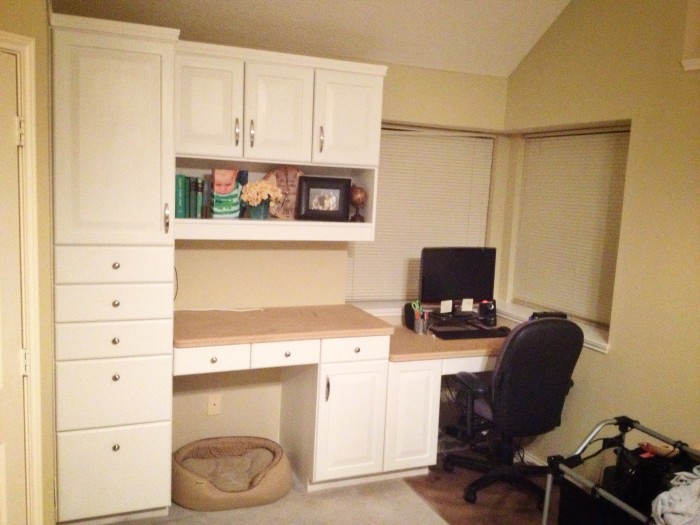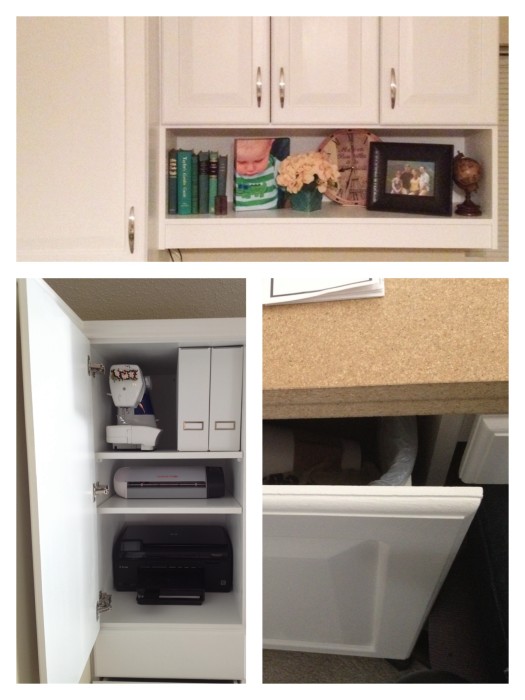 I take absolutely zero credit for this, except that I married a man with the most talented father in the whole world. I have always wanted a built-in cabinet desk in a nook in my room, and my father-in-law built this for me from scratch, complete with a pull-out trash can, a cabinet that was made specifically to fit my printer, Sillhouette, and sewing machine, a 12×12 filing drawer (scrapbook paper size!), and all kinds of other goodness. I am CRAZY about this. All it needs now is the countertop, which he will come back and install soon. I love him .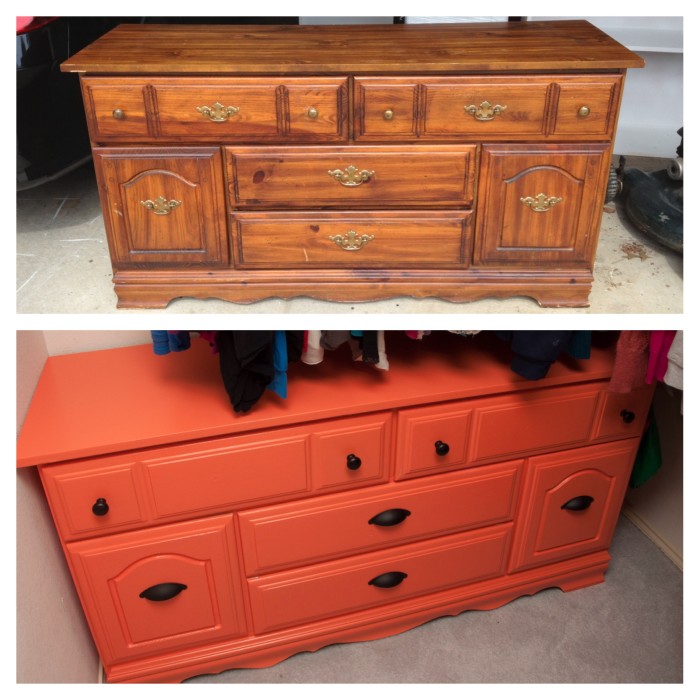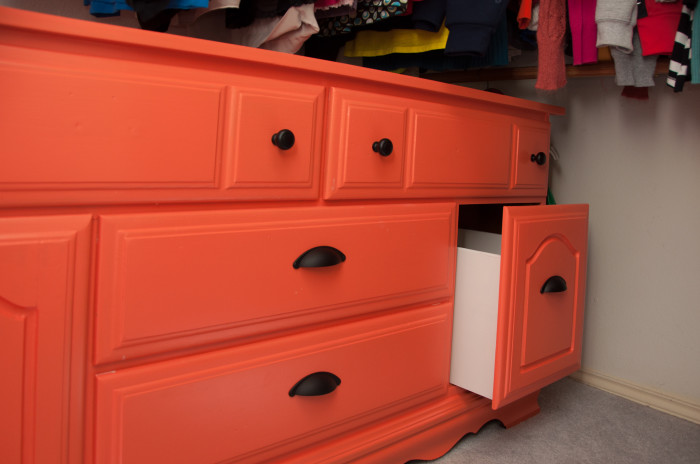 I just finished this new old dresser this weekend, which is what reminded me that I needed to post my before and afters on the blog. My mom got this dresser for free from her friend, whose mom had passed away and it didn't get sold in the estate sale. I saw it and had to have it, so she let me steal it from her. I have been using plastic drawers in my closet since I moved in and this is SUCH a prettier option. I'm crazy about how it turned out. It was just a sanding, priming, semi-gloss paint, and new hardware. Totally worth it.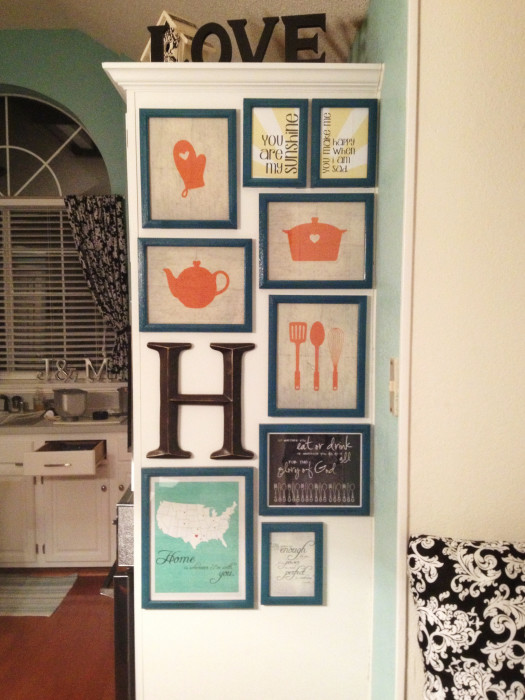 This is a collage that I made for a side-of-a-cabinet in my kitchen. I made all the printables in Photoshop myself and really like how it turned out.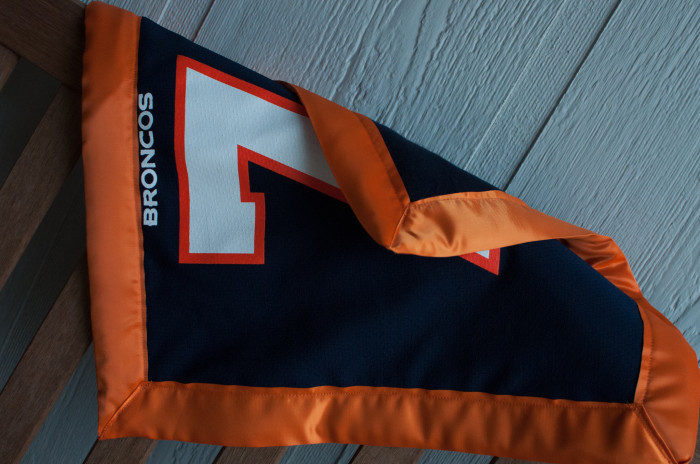 I made this one a very long time ago, and though I think it made the recipients (my brother and sister-in-law) kind of sad because I dared cut up a sports jersey, I really liked making it. I bought a cheap Elway jersey on eBay (as big as I could find), cut it into a square, put really soft fleece on the other side, and did a satin blanket bias tape around the edge. It's pretty small to be an actual blanket, but it would be a good "lovey" for a toddler to cuddle with.
That's all for now! I'm sure I will have more projects to post soon – I got some great little nightstands on Craigslist that I plan on redoing as well, but they haven't told me what color they want to be yet.