I am coming to terms with the fact that scrapbooking is not something I am able to regularly make time for anymore. I will never be a Jenni Hufford, and that's okay because she doesn't make beautiful things to make others feel inadequate about not doing the same.
Instead, I use social media to document life. I download backups of Tweets and Facebook activity with grand intentions of someday making a book (although maybe Cassandra will make me one instead). Instagram has become my new digital scrapbook.
And so I look back at my scrapbook sometimes.
For a while it didn't take long to get back to The Time When Everything Was Okay.
Now I have to hit the "Load More" button so many times, just to get back to that time before the sunset, when he was still around.
Load more.
Before the night I was rocking Devin to sleep, when there was no diagnosis. Everything could still be okay.
Load more.
Before he was smiling in his hospital bed, when he was going to be out in just a few days.
Load more.
Before he reunited with Cassandra and Devin at the airport, when his chest pain was probably anxiety and pleurisy.
Load more.
And before that, it was just life. Everything Is Okay life when we were separated by miles instead of time, when he would always ask me to stay longer when I visited.
Load more.
Load more. Load more. Load more.
He is moving further away every moment. Further than Colorado, further than Boston.
But the further I get from that sunset, the closer I get to my own sunset, to home, and to him.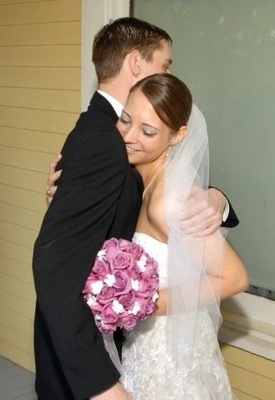 Keep loading more.